Manotak Lodge Perrault Lake Canada
Fantastic Fishing on Beautiful Perrault Lake
For Walleye, Northern Pike, Smallmouth Bass, Whitefish, Perch and Muskie. Perrault Lake has over 50 miles of shoreline and is directly connected to Cedar Lake that has an additional 67 miles of shoreline. Both lakes are 9500 acres and provide excellent fishing. We provide contour maps of both Perrault Lake and Cedar Lake that illustrate water depths, underwater structure and other helpful information. Steve will advise you of the current hot spots and will assist you with your choice of lures and rigging.
For those wanting more adventure, we offer day trips to our remote lake locations; we have an outstanding Muskie only lake where the average day is to catch 3 to 5 Muskies and have 10-15 follows. If you prefer we can also arrange for a daily fly-out to a remote wilderness lake where the Walleye, Northern Pike, and Smallmouth Bass fishing is some of the best in the world.
The fishing season begins in mid May. When the ice melts, the shallows are the warmest and the fishing action is fast and furious for all species. Most fish seek cooler water in mid July; you will have to adjust down for them. As fall approaches in late August, the surface water starts to cool down. Bass and Walleye concentrate and when you find them, it will provide some of the best fishing ever. Remember too that late August and September are trophy Muskie time. Fall is also when the Whitefish move into shallow water.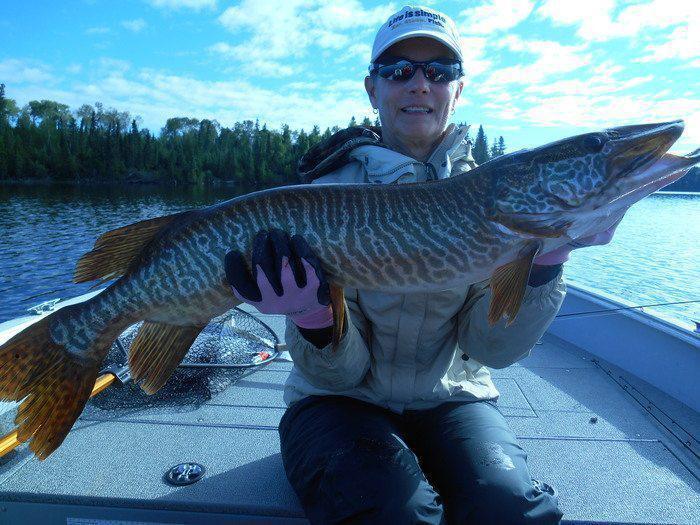 Quality Boats and Motors
Our package plan boats are the best in the industry and are 18 ft. Lund & Alumarine Boats, equipped with 50h.p. Yamaha Four Stroke engines, depth finders, aerated live wells, padded swivel seats and flat floors. Boat cushions, floating minnow buckets, anchors, paddles and landing nets are furnished at no cost. We also include 28 gallons of gas for all the rental boats.
Our dock hand fills your boat with gas each morning and are there to provide you with live bait and assist in getting your fishing day off to a good start.
Our Guides
Our guides have been guiding on Perrault and Cedar Lakes for over two decades. A high point of your day will be your shore lunch of freshly caught walleye, fried to perfection by your guide over an open fire.
The Facilities
Include a launch, fish cleaning (yes, we will clean your fish for you), fish wrapping, fish freezing and battery charging at no extra charge. Our sun deck, canoe and paddle boat are always available for you at lake shores edge. We carry fishing licenses, live minnows, and a wide selection of artificial lures in our tackle shop. We also have coin operated washers and dryers for your convenience. Sorry, but pets are not allowed. All cabins are non-smoking.
Ruffed Grouse Hunting and Trophy Muskie Fishing
Exist in the fall. A simple drive down a side road will produce a limit of Ruffed Grouse. After a morning of hunting Grouse, take the afternoon and fish for a trophy Muskie on Perrault Lake or on our remote Muskie only lake. You can also hunt for a wide variety of ducks and geese.
Ice Fishing and Wolf Hunting
We offer limited ice fishing and wolf hunting packages throughout the winter months at our lodge in between our sport show schedule. Wolf hunts take place in the month of march, while ice fishing can take place anywhere from January 1st to the time walleye season ends in the middle of April or when the ice gets bad. Your own snowmachine/ fourwheeler (depending on time of year and snow conditions) will be a necessity for either of these adventures.
Wolf Hunts- Wolf hunters will need their own gun for this hunt. If you book a hunt you need to have the capability to shoot up to 200-300 yards. You will also need to be prepared to hunt all day as wolves are a very unpredictable animal. As stated above you need your own fourwheeler or snowmachine depending on time of year and snow conditions.
Ice fishing- You will need a snowmachine/ fourwheeler as stated above and on top of that you will need all equipment for ice fishing such as tents, augers, rods, reels, tipups. Live bait can be ordered through us ahead of your stay or bought in Canada before your arrival to camp. Guided trips available on request and availability only.
Ice Fishing Rates:
$100/ Person/ Night
$300/ Day for guided trips including auger, rods, bait, electronics, tent/ shack
Wolf Hunting Rates:
$2500 per hunter
$1000 deposit required upon booking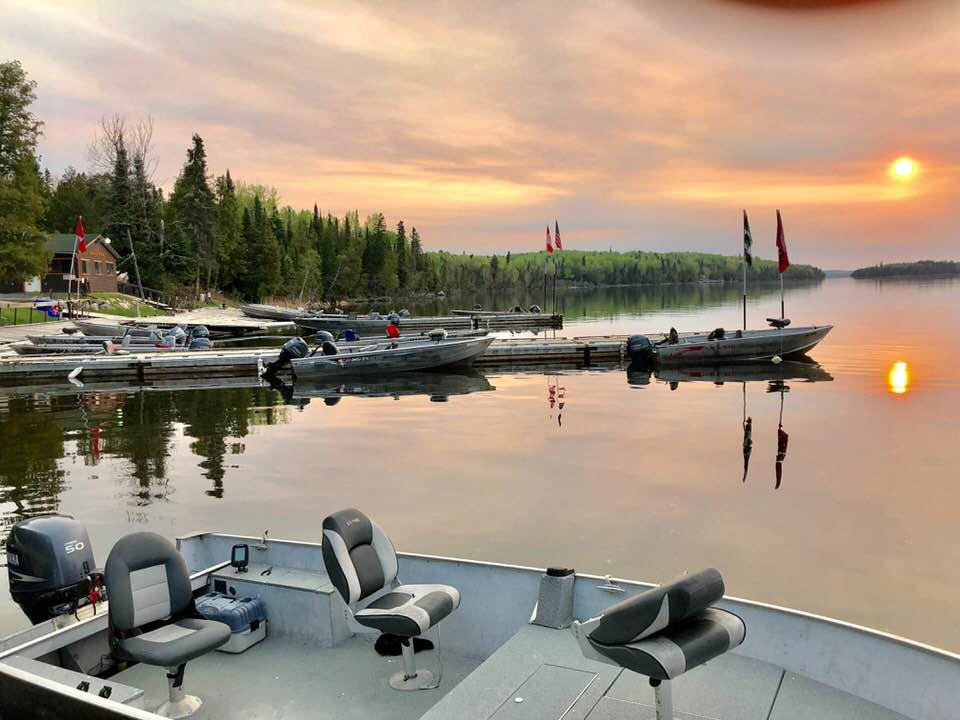 Highway 105
Perrault Falls, ON P0V2K0 CA
800‑541‑3431