EAGLE RIVER CHAIN / THREE LAKES CHAIN, WISCONSIN
SPRENGELER & WILLEM AMAZING 10 MUSKY PERFORMANCE EARNS MERCURY MARINE
SUMMER CHALLENGE TITLE & $23,880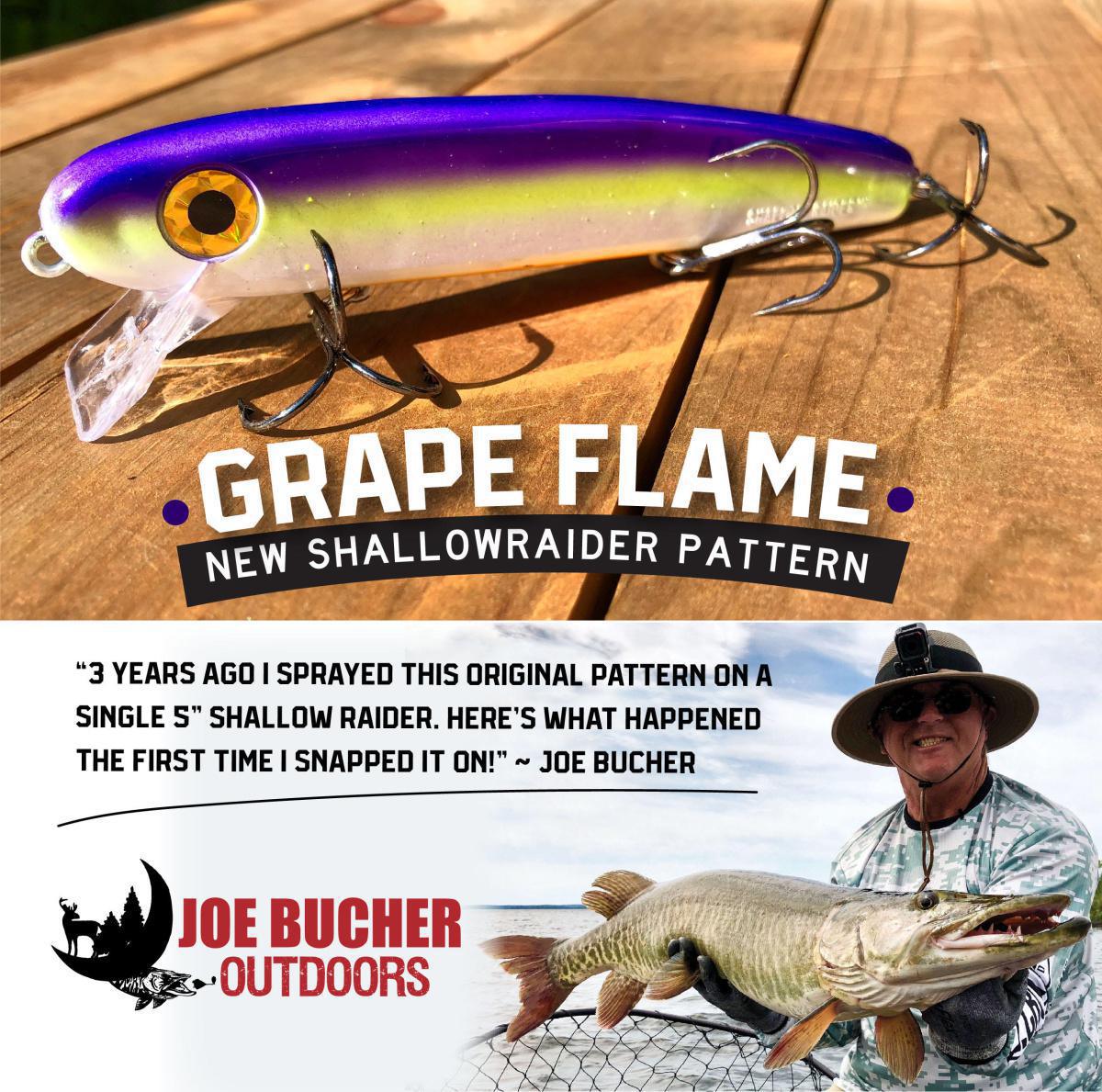 BOB OSBORNE - PMTT MEDIA
Steeped in a rich musky angling history going back well more than a century, northeastern
Wisconsin's Vilas & Oneida Counties are home to many of this nation's most storied musky
waters, including the world's largest chain of freshwater lakes. The area has certainly been one
of the most popular destinations on the Professional Musky Tournament Trail since their
inception just over 24 years ago. Evidence by the packed crowd attending the 'sold out', full
field of over 125 teams for the PMTT- MERCURY MARINE'S SUMMER CHALLENGE. Held this
past weekend on June 25th & 26th in the hospitable, always welcoming Three Lakes Area
Chamber of Commerce and the Eagle River area Chamber of Commerce.
Nolan Sprengeler and his partner Tim Willems, of the Plymouth, MN. area, were among the
many with what they felt was a solid 'Game Plan;' one they had been tweaking on waters
nearer home that appeared to be working well here They quickly went to work keeping an eye
on their electronics, moving off breaks while looking for bait and musky relating to those bait
schools. The duo cast 'Rubber' with a moderate retrieve, utilizing big hops in their retrieve and
were quickly rewarded with the first of what would become, by days end, an unforgettable,
record-tying, single day team effort of 8 Musky registered & released. Although it was a
memorable day-on-the-water for many with 54 muskies registered day one, that saw multiple
triples and doubles among them.
Greeted with lower temps, blue-bird skies and increasing winds on day two, many anglers saw
their patterns fading fast. Day One Leaders, Sprengeler & Willems went immediately to the
tactics that had vaulted them ahead of the field the day before. Number 9 slammed the
Rubber, hit the net and was on the board in the first hour. "We were throwing natural colored
stuff, mostly brown/silver and really reading our electronics.," Sprengeler explained. Moments
later, capping off an already incredible performance with a tournament record-tying 10th musky.
"Sitting or suspending off breaks, looking for bait, typically deeper water, casting Rubber on 9'6"
rods with sort of 'Big Hops' is something we do back home.", shared Nolan very matter-of-factly
from the winners podium Sunday afternoon. "It worked pretty good for us." he followed with a
smile
Tournament Founder/Director, Tim Widlacki, announced a Record PMTT Qualifying Event 1st
Place Pay Out of $23,880… MERCURY MARINE SUMMER CHALLENGE TITLE – RECON BONUS –
TTAP TEAM BONUS.
Well-known, successful local anglers, Matt Raley & Nate Osfar, closed out strong, making a big
move up the Leaderboard, putting two much needed 'Kickers' on the Board for a Triple to earn
2nd Place & $5,180.
3rd Place with a Double, taken on 10" WTD-style Top Water; Austin Wiggerman & Sam Stone.
4th Place/ TTAP Bonus Fish (44") with a Double taken Burnin' Blades; Coltin Thomas & Anthony Cast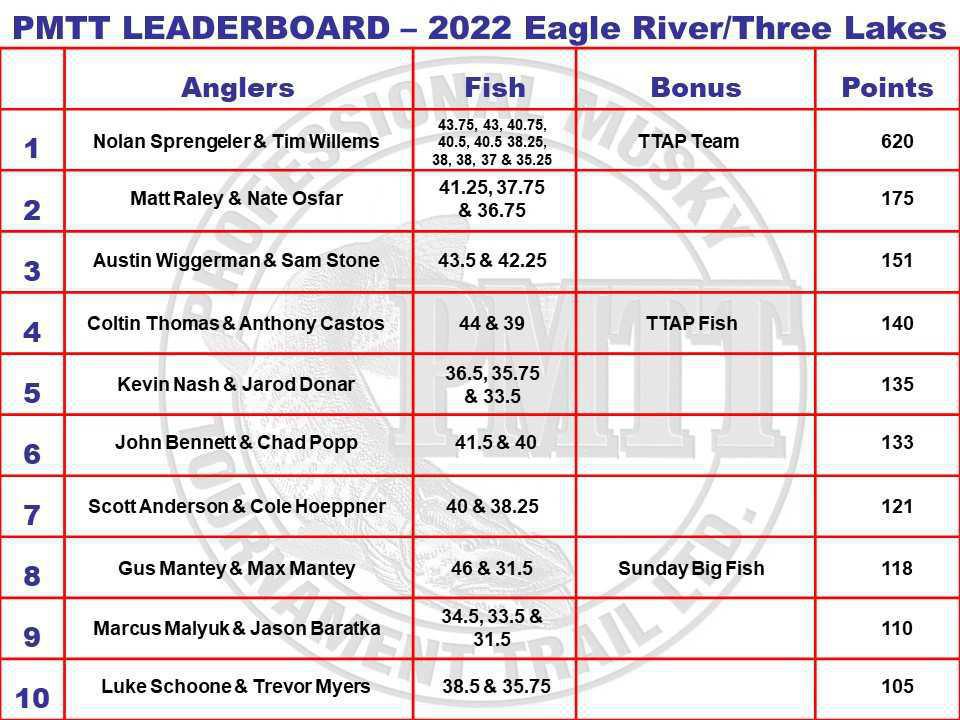 Musky Hunter Magazine Fish Bonus/43.25" - Ralph & Matt Bigham
Saturday Big Fish/44.50" - Taylor Andrews & Matt Wallis
Sunday Big Fish/46"; Gus & Max Mantey
54 Musky Registered Saturday – 27 Musky Registered Sunday = 81 total muskies registered.
PMTT Tournament Director, Tim Widlacki, acknowledged the Trail's deep appreciation to our many outstanding Sponsors for both their continuing support and the important part they have played and are playing now in our growth over the past 24 years as America's 1 st and only; truly National Professional Musky Circuit. Leading the way with new, challenging, and innovative Formats, featuring many of America's Top Musky Fishing Destinations; Highlighting Freshwater's most elusive and challenging fish and the fast-growing Community of Extreme Adventure Anglers who give her chase. Special thanks to our Q-2 Event Sponsor, the great folks @ MERCURY MARINE; and to all of our wonderful Hosts and Site Partners for their outstanding support: EAGLE RIVER CHAMBER OF COMMERCE; THREE LAKES AREA CHAMBER OF COMMERCE; NORTHERNAIRE RESORT; RECON BOATS; LEECH LAKE AREA CHAMBER OF COMMERCE; LEECH LAKE TOURISM; MOREHEAD TOURISM; CHAOS TACKLE; MUSKY HUNTER MAGAZINE, MOTORGUIDE; LIEF LABS and to our entire  family of Contributing Associate Sponsors as well. Please let them know how much you appreciate what they do whenever you get the chance… show them some Musky Love, returning their support when you can… they are a vital part our growing PMTT Family.