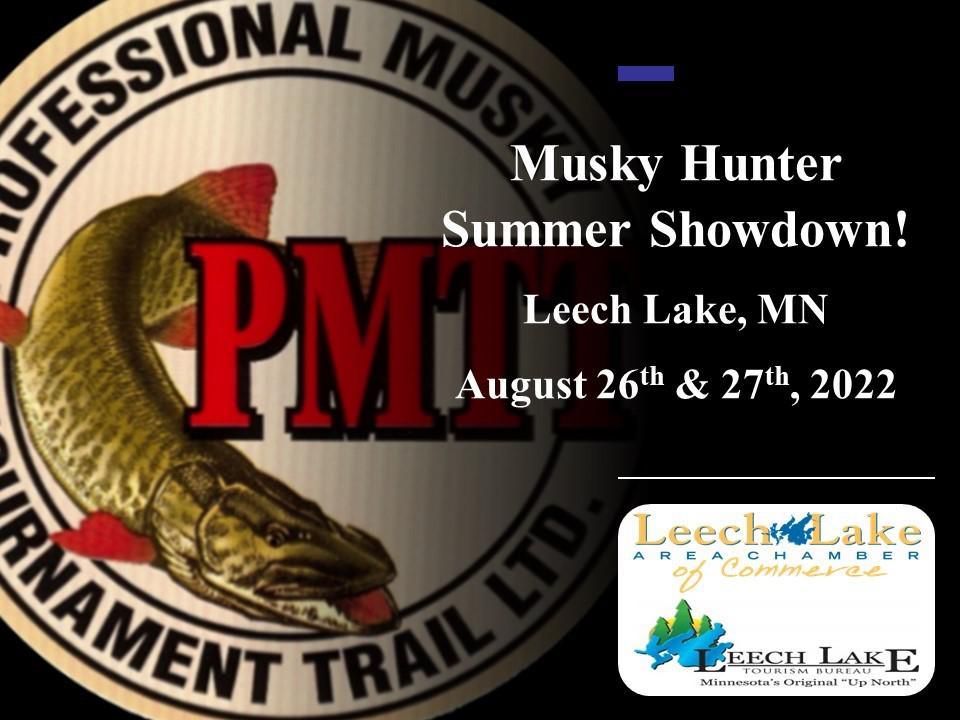 08/28/2022
Final Results - 37 Fish caught and released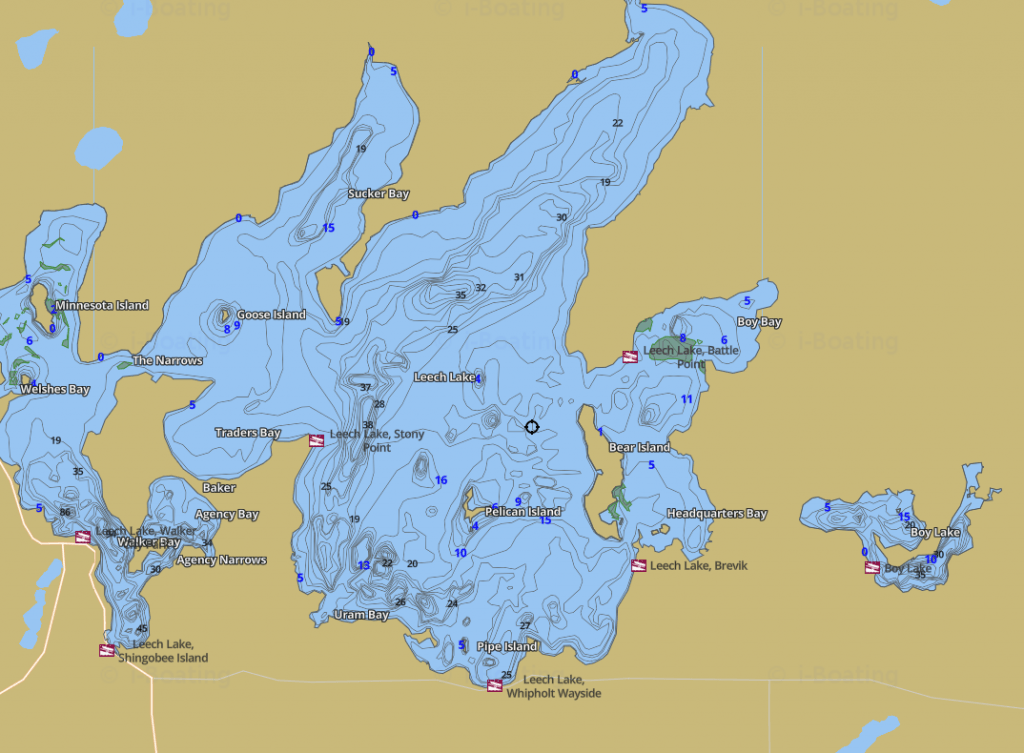 08/26/2022
With the 3rd leg of the PMTT beginning today - we thought it only appropriated to post and share some information about Leech Lake!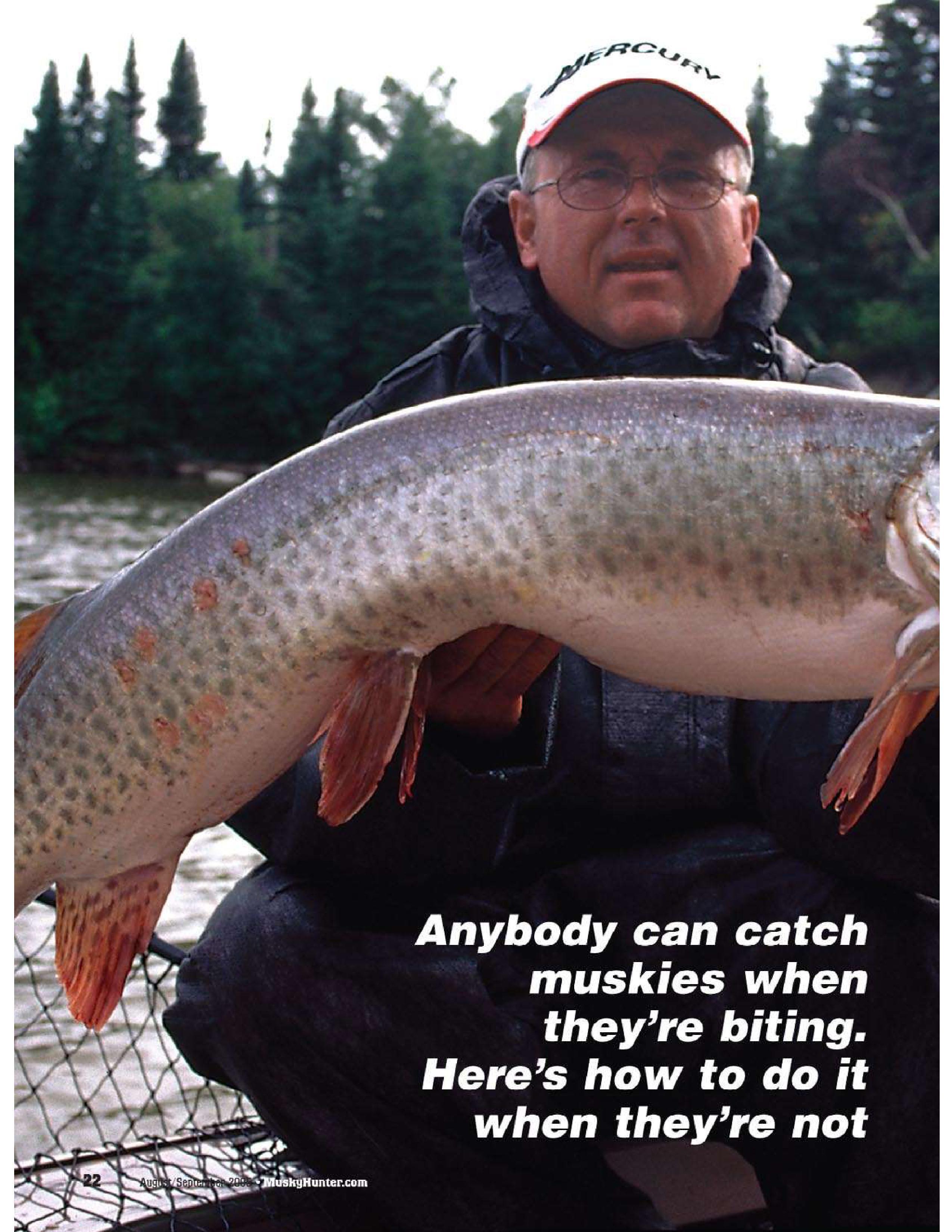 08/25/2022
This article originally appeared in the August/September 2005 issue of Musky Hunter. To see more classic articles like this, subscribe to the Musky Hunter Digital Collection: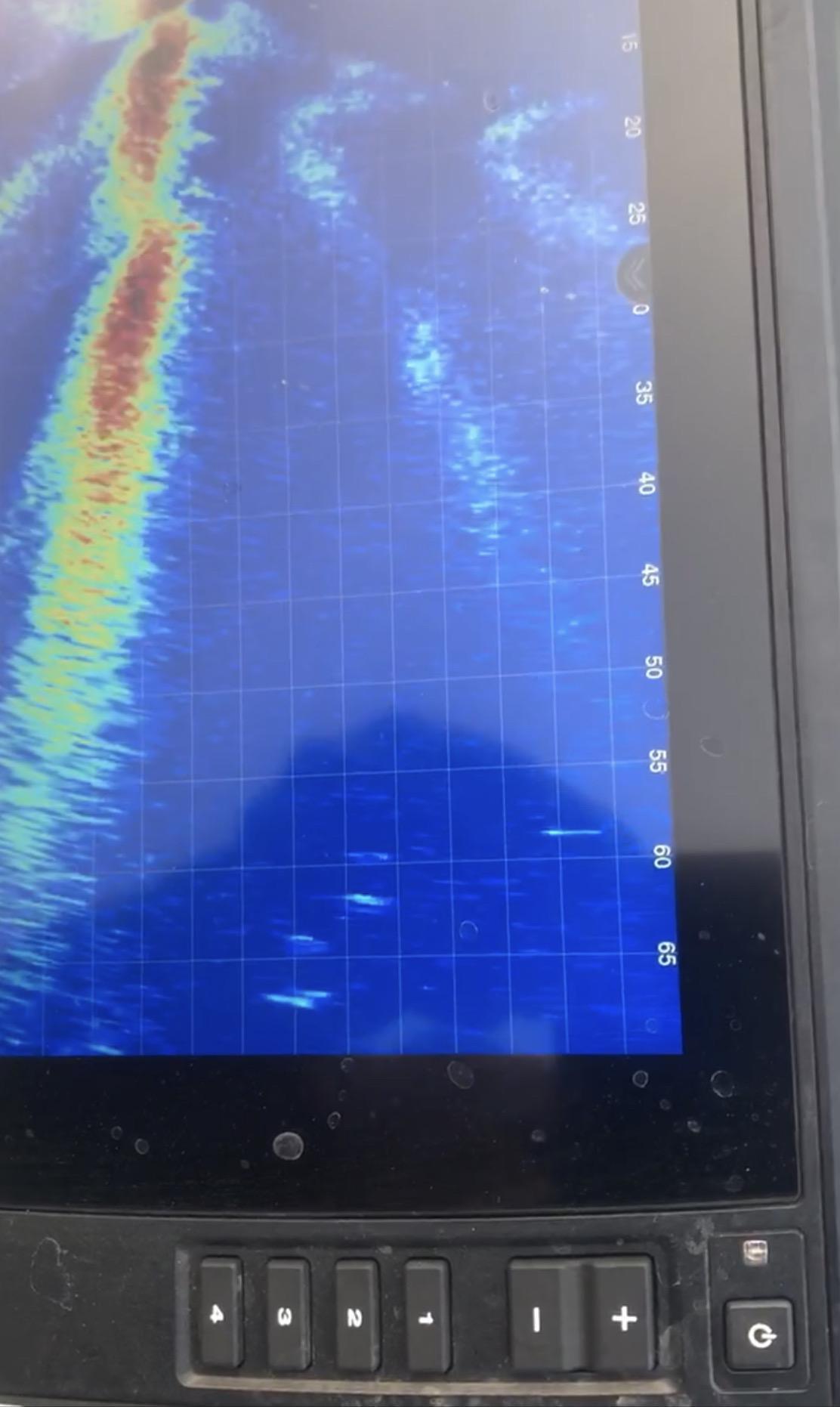 Kevin Cochran 08/24/2022
Setting Up The Scope

Musky Hunter 08/11/2022
As I write this, the water has reached and exceeded the 80 degree mark in Northern Indiana. We are at a time where I generally stop fishing for Musky and begin preparation for the September bite, when cool nights bring water temps back down. Before the heat of July kicked in, the fishing was both up and down in my boat. While I definitely put less numbers in the boat during late June/Early July, the size was there. Several mid 40-inch fish made it to the net, however you had to work exceptionally hard for them. The patterns were often sporadic and fairly unpredictable.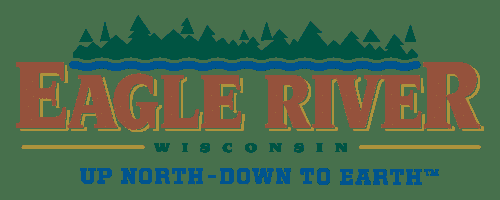 08/05/2022
National Championship Musky Open - Eagle River Area Chamber of Commerce
08/04/2022
As we head into the second half of the summer, one huge change has caught Northwestern Ontario by storm, literally.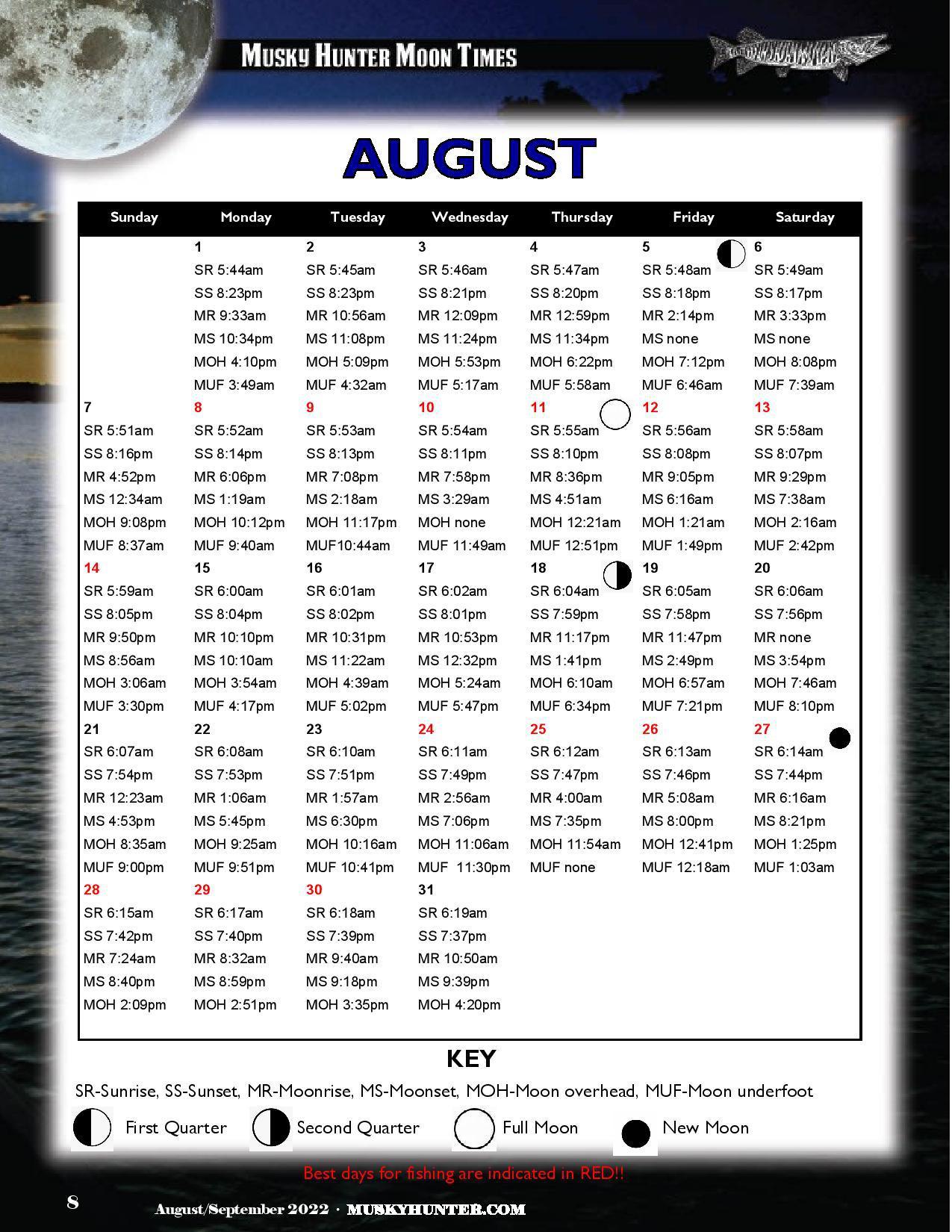 08/01/2022
Musky Hunter Moon Phases are based on the fact that the moon influences the behavior of all creatures, including muskies. Periods of full moon and new moon are considered the best for big muskies. Moonrise and Moonset are key factors, as are the times of Moon overhead and Moon underfoot. Moon overhead is the time when the moon is at its zenith between rise and set. Moon underfoot is the time when the moon is at its nadir between set and rise, and is 180 degrees in its orbital path from its zenith.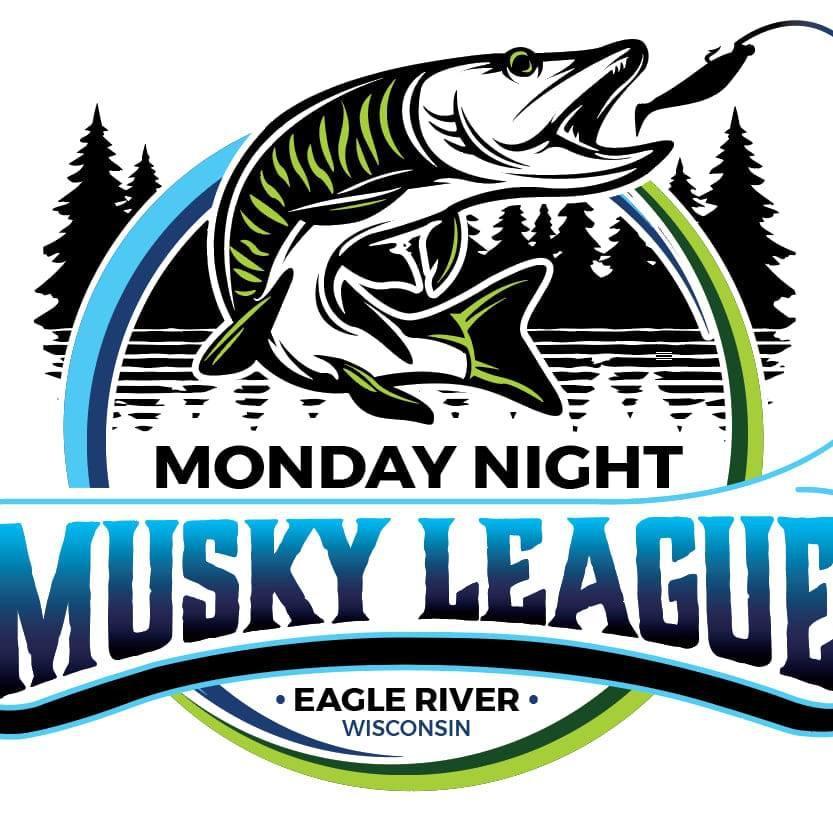 07/28/2022
Numbers for this week were up a little. There were 11 fish over 30" caught. No real big girls were bagged, but we did have several over 40". The Eagle Chain was where most of the action was for this weeks league.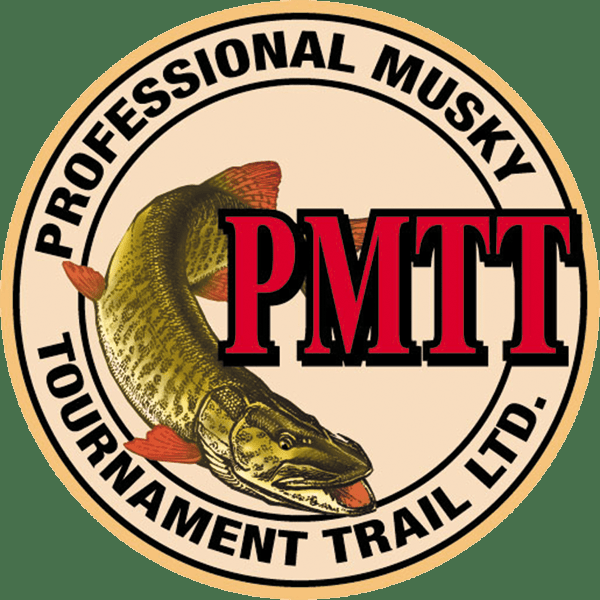 07/26/2022
From the Director of the PMTT: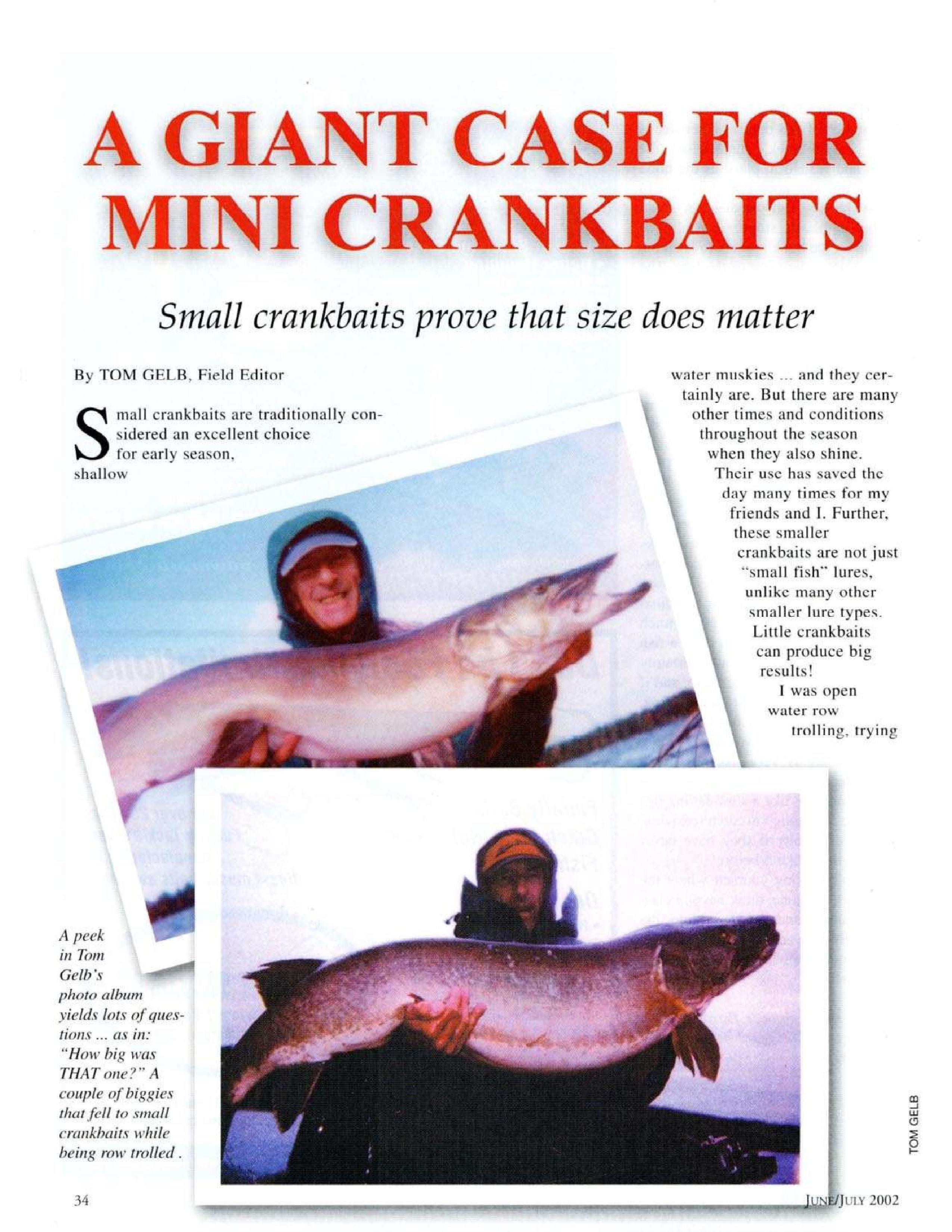 07/22/2022
This article originally appeared in the June/July 2002 issue of Musky Hunter. To see more classic articles like this, subscribe to the Musky Hunter Digital Collection: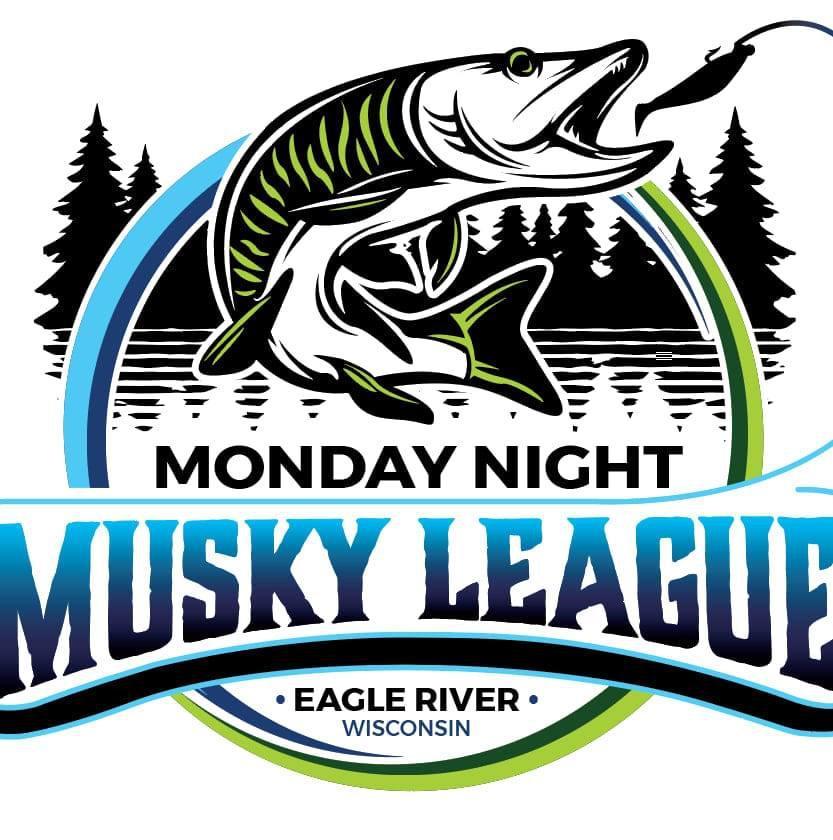 07/21/2022
This week in league we started off with hot muggy temps.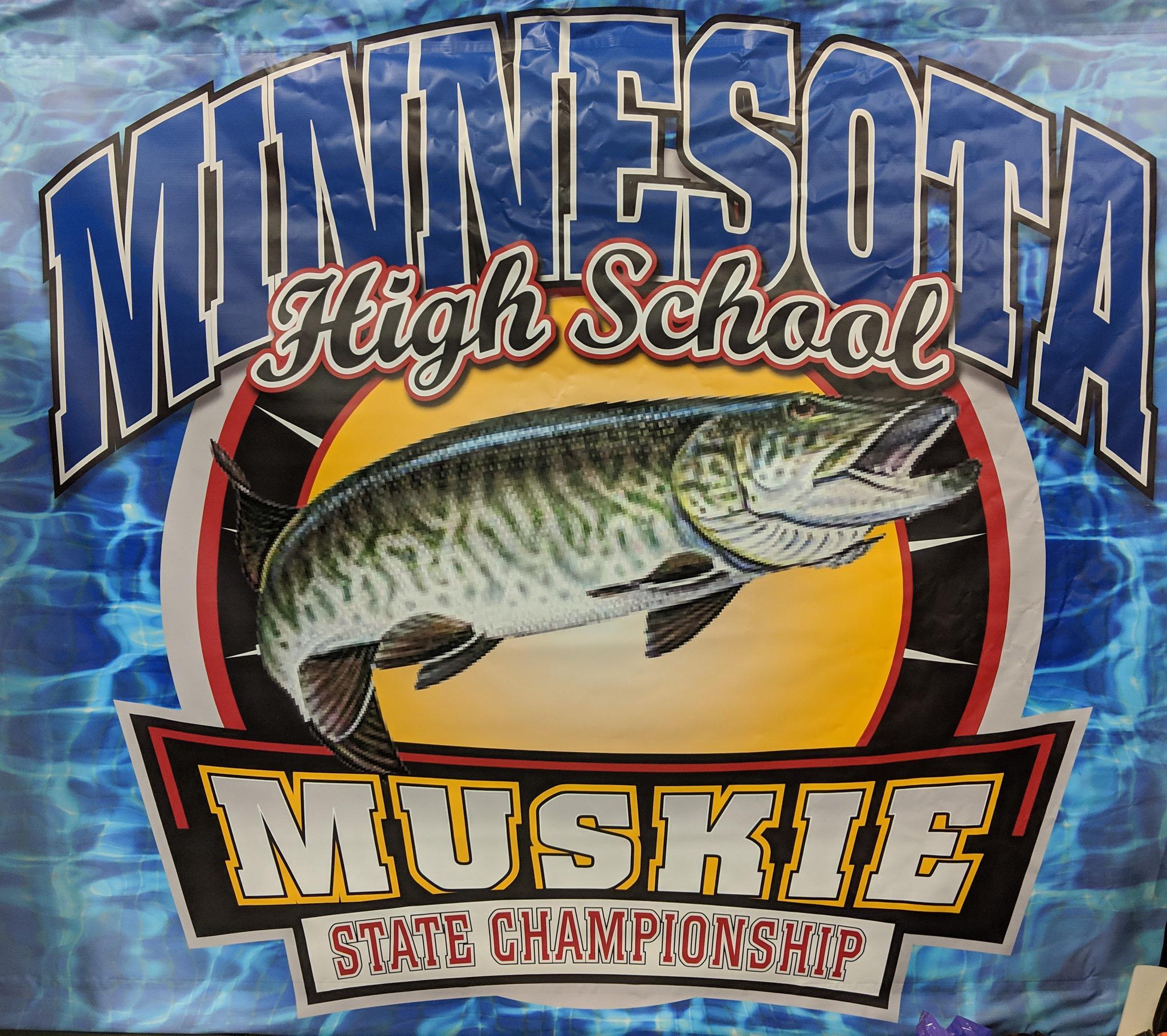 07/20/2022
𝐌𝐘𝐌𝐓𝐓 𝐓𝐞𝐚𝐦 𝐨𝐟 𝐭𝐡𝐞 𝐘𝐞𝐚𝐫 𝐒𝐭𝐚𝐧𝐝𝐢𝐧𝐠𝐬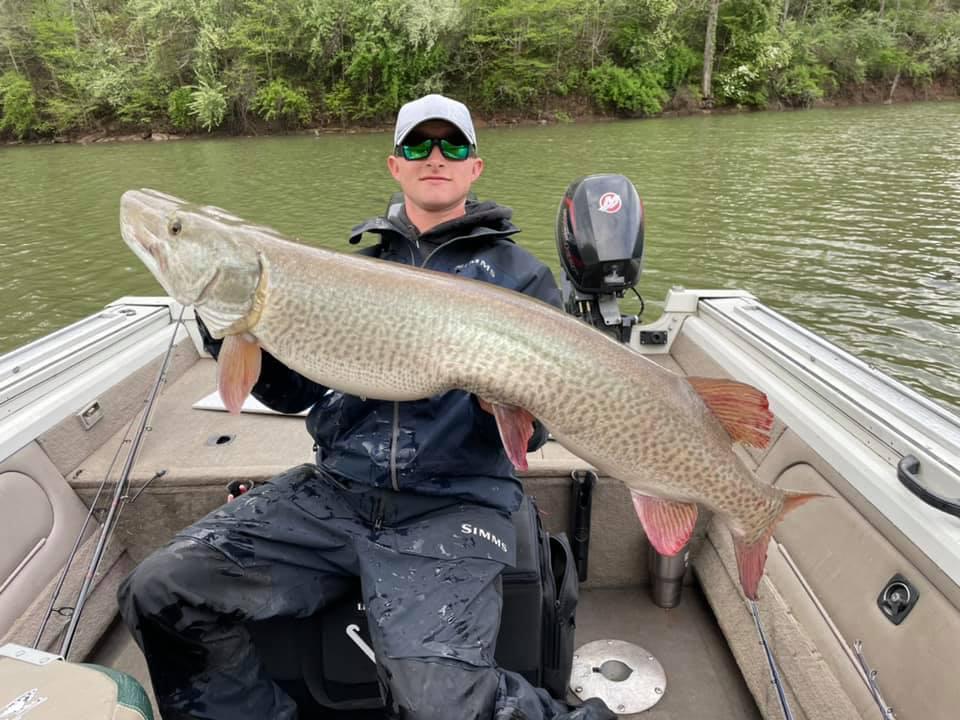 07/17/2022
Late spring always brings hardships when it comes to Southern reservoirs fishing and warm water temps! So during this time frame I head north! This year I guided in Northeastern Ohio for a couple weeks. It was a great time, while my local water temps were well into the 80s, the lake I fished was mid 70s. Water clarity was great and the fish were biting! I found most of the fish were transitioning from shallow weeds to deeper water. So deep weed edges, points, and humps were my best producing structures. Weed edges were the most valuable for holding active eating fish. Casting rubber, jerkbaits and spinnerbaits into the weeds and pulling them out off the edge was the ticket. When the fish were being inactive, putting my boat on the inside and casting out was the most productive.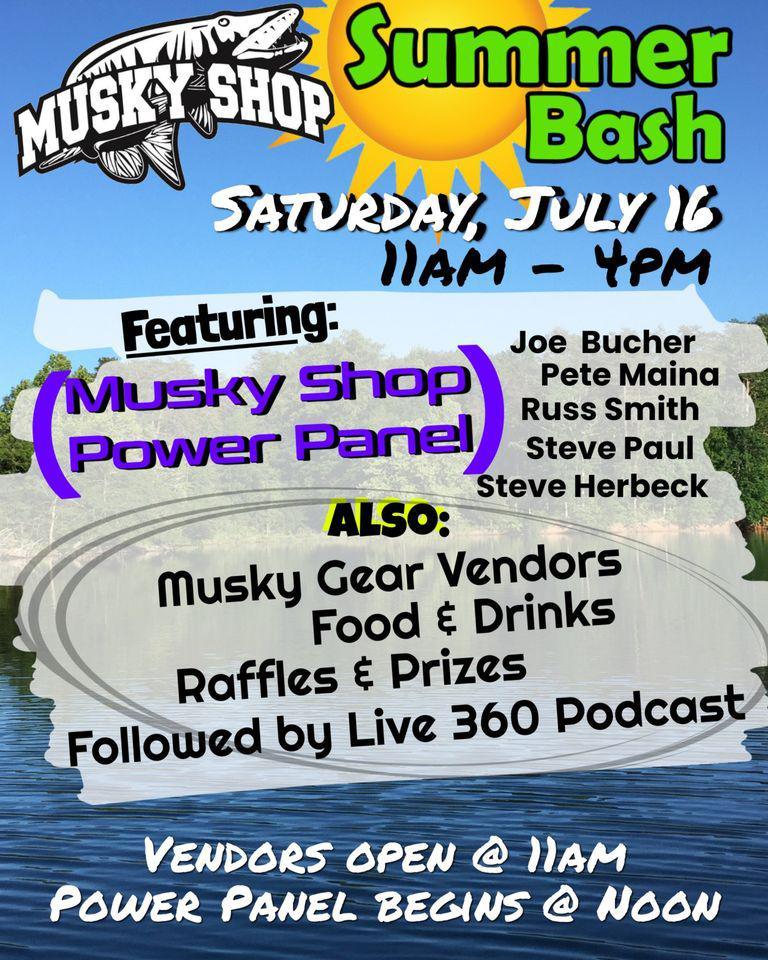 07/15/2022
Looks like a great event for the musky enthusiast. We suggest checking it out! Tomorrow, Saturday, July 16th 11am to 4pm - Prizes, Food, Drinks, and vendors from across the Musky Spectrum.
07/14/2022
Well the fish finialy let loose for league. 17 fish hit the net Monday Night (7-11-22).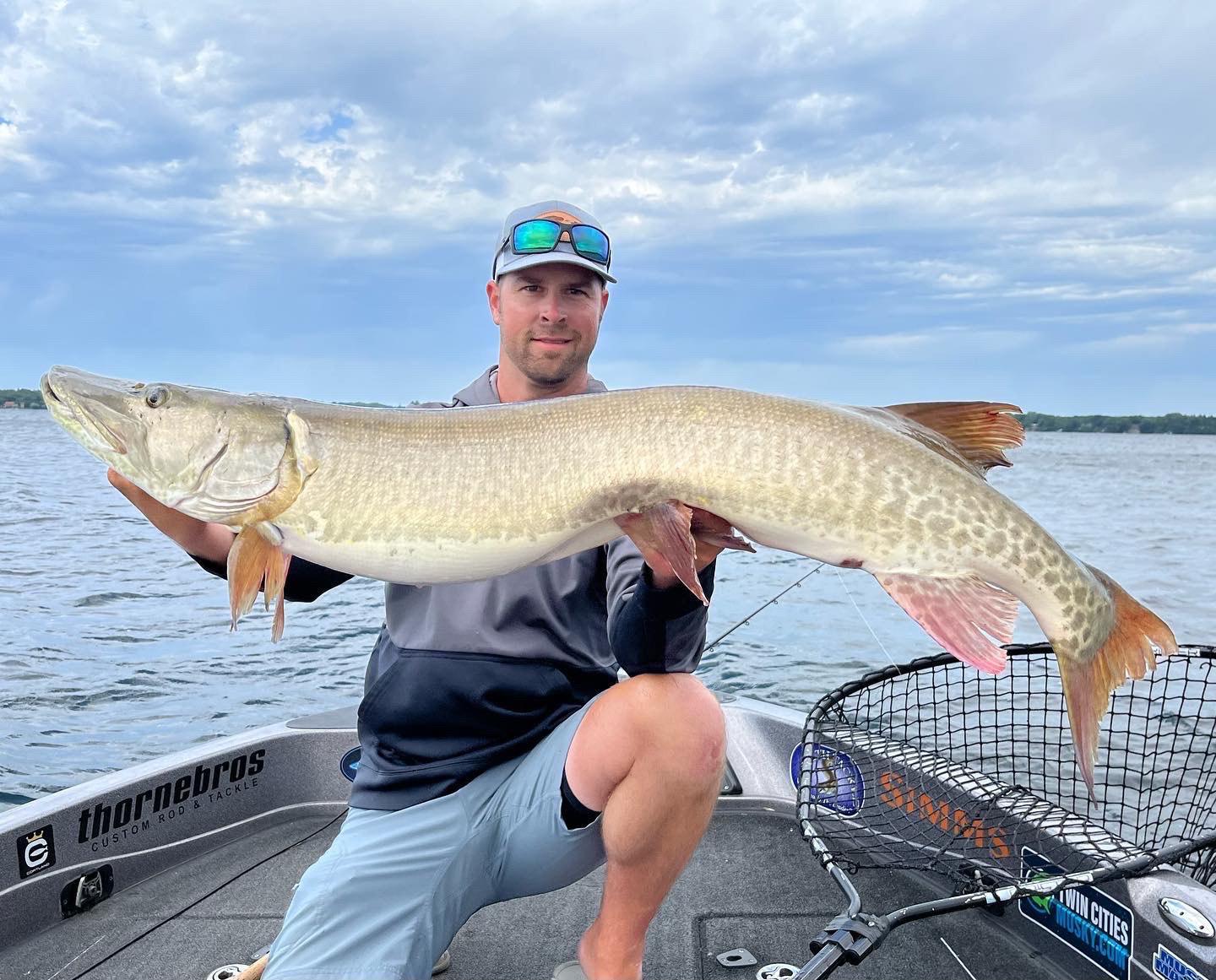 Musky Hunter 07/13/2022
In Minnesota we saw a little bit of a delayed bite in the Twin Cities due to a cooler spring, but in the last couple weeks we have hit our stride here. I've been fishing mostly in West Central MN the last couple weeks and fishing has been great.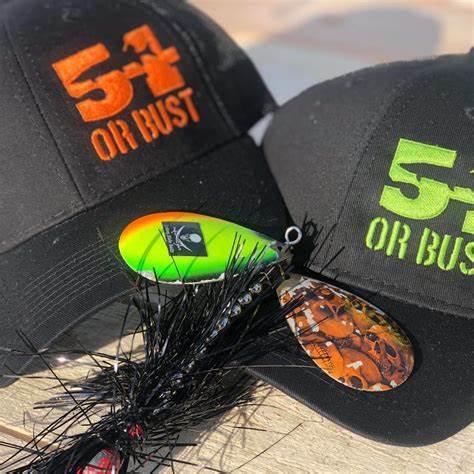 Musky Hunter 07/11/2022
Almost a month into the musky season in northwestern Ontario and finally things are starting to settle into familiar patterns. High water, a late spring thaw and low water temps have produced an unusual early season bite. However as we enter the middle of July, things are starting to settle into mid summer patterns. Fish are moving out to structure and the summer bucktail bite is heating up.

07/10/2022
Musky Hunter Magazine - the digital app, is the main resource hub for all information about Musky. Our goal is to bring you up to the minute news, information, pictures, and event things happening in and around the Musky communities.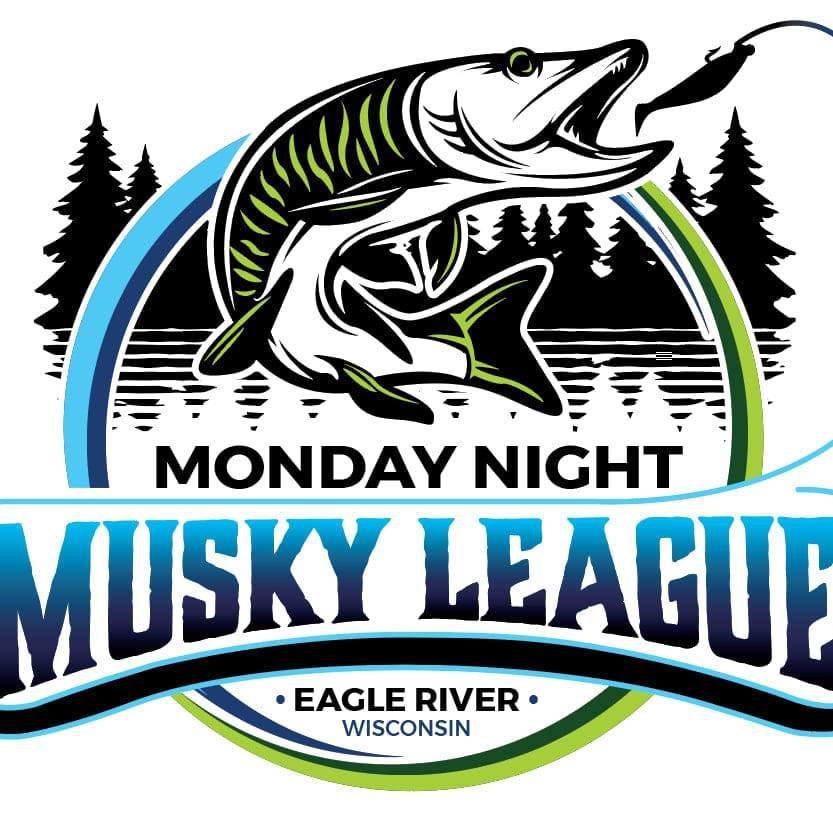 07/09/2022
Monday Night Muskie League is a fun and competitive Muskie Fishing League out of Eagle River, Wisconsin. This event started on May 16, 2022 with their Welcome Meeting. They are through week 4 at this point (the group took the 4th of July off). Week 5 is coming up Monday, July 11, 2022.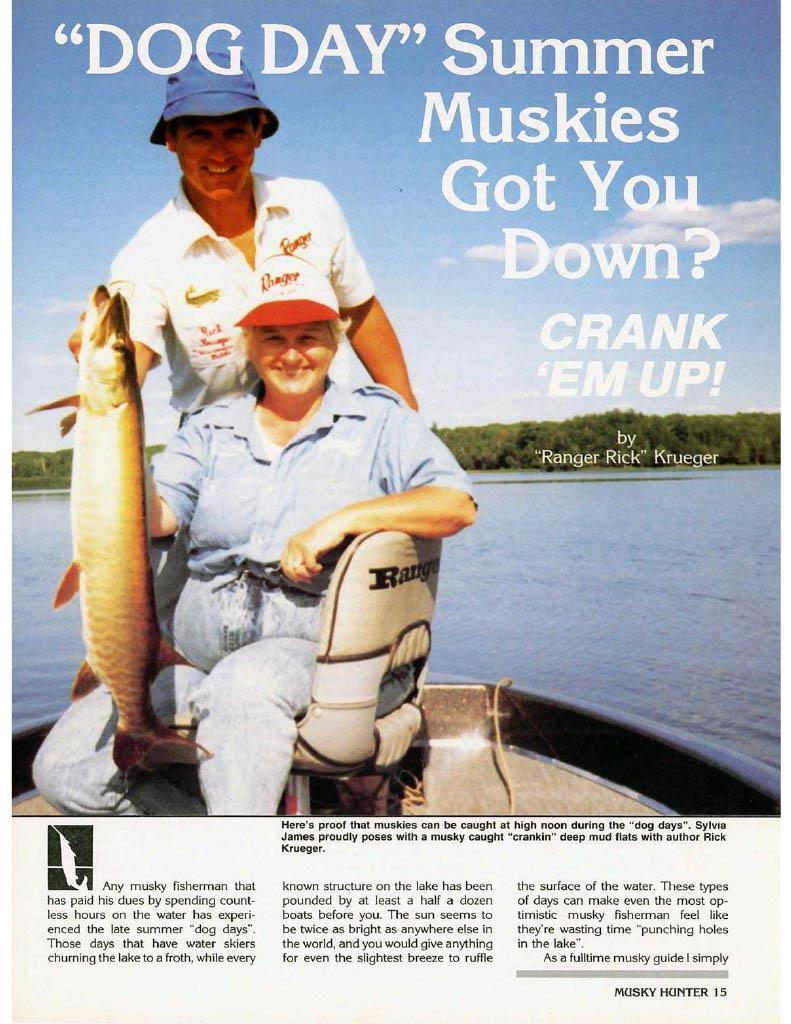 07/08/2022
This article originally appeared in the June/July 1989 issue of Musky Hunter. To see more classic articles like this, subscribe to the Musky Hunter Digital Collection: https://simplecirc.com/subscribe/musky-hunter-collection
John Bette 07/06/2022
There's a new bait that came out this past season that seemed to cause a little confusion, at least from a leader standpoint. It's the Grenade from Musky Mayhem.

Musky Hunter 07/05/2022
Thanks for coming on board with the new app. As promised we will be posting and sharing things as they are available. Today's post will include 6 new trolling charts: